Sister Cities and Friendship Cities Overseas
Sister Cities: (Cheongju City, South Korea / Hanau, Germany)
Friendship Cities: (Taicang City, Jiangsu Province, China / Ordos City, Inner Mongolia, China)

► Sister Cities

Chenogju City, Chungcheongbuk-do, South Korea 
(Sister city since August 30, 1990)

Relationship with Tottori City

The exchange between the two cities started in 1986, when the then Tottori City mayor Masaru Nishio paid a courtesy visit to the then Cheongju City mayor Kim Deok Yeong and was made the first honorary citizen of Cheongju City. Since then, the exchange between the two cities has flourished.

Location

| | | |
| --- | --- | --- |
| Cheongju City is located 128km to the southeast of the capital Seoul. It can be reached by express bus from Seoul in 1h 40min, and from Taejong, a major city in central South Korea, in 30min. It continues to thrive as the seat of the provincial government of Chungchongbuk-do with a population of 650,000. Access from Japan has improved significantly since the opening of the Cheongju International Airport in April 1997. | | |

General Information

        

Cheongju has been known as a center of education and culture and has produced many famous scholars. The city has 7 universities and is bustling with young people. Cheongju is also known for being the first place where printing with movable metal letters was employed.

Sightseeing spots in Cheongju
Sandang Sangsong Fortress

| | | |
| --- | --- | --- |
| Sangdang Sangsong is a huge mountain fortress made from piled up stones and located 7.5km east of Cheoungju City. It is 4.2km in circumference, 4m in height and stretches over an area of appr. 180.000m2. There is also a village of traditional houses within the fortress walls where traditional dishes are served. | | |

Cheongju Early Printing Museum

| | | |
| --- | --- | --- |
| This museum was built on the Heungduksaji Temple site, where in 1377, 75 years prior to the Gutenberg Bible, the Buddhist scripture "Jigii Shimche Yojul" was printed using the world's first movable metal types. Many important artefacts and materials about the culture of printing are on display and the museum has been registered in 2001 as "Memory of the World" by UNESCO. | | |

The Cheongju Zoo

The Cheoungju Zoo, opened July 1, 1997, houses a wide variety of animals, including tigers, leopards and deer. The zoo also keeps Japanese monkeys, which were a present from Tottori City.
Sightseeing spots around Cheongju
Mount Sokri

Mt. Sokri is one of the most famous national parks of South Korea. Its summit is rocky, which is typical of Korean mountains, and many mountain climbers can be seen throughout the year. There is a 33m high Buddha statue at the Bupjoo Temple, which is located at the foot at the mountain.


Suanbo Hot Spring

This is the most famous hot spring in South Korea, especially known for the amount and the outstanding water quality, which is said to have healing effects in cases of skin disorders. During the winter Suanbo is also ski area
Local specialties
| | | |
| --- | --- | --- |
| Jujube wine, potteries, jinseng tea, chestnuts dishes, wild vegetables dishes | | |
Tottori and Hanau: new start as sister cities.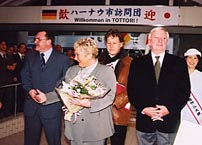 For many years Hanau, Germany and Tottori had been friendship cities, when from November 19 to 21, 2001, a delegation from Hanau visited Tottori and both sides agreed to take their relationship a step further and enter into a sister city agreement, marking a new beginning toward the 21st century.
The Hanau delegation consisted of four people, among them the then mayor Ms. Margret Haertel and the city council chairman at that time Mr. Wolfgang Walther.
On the first day of their stay in Tottori, they paid an official visit to the Tottori City mayor and the vice speaker of the city council. On the following day (20th), after mayor Haertel had delivered a commemorative address at the Tottori City assembly hall, both mayors signed the sister city agreement and exchanged a firm handshake.
Ms. Haertel said "Japan and Germany are far apart from each other. However, despite of the distance, I strongly hope that the exchange of economy, culture, as well as exchanges at citizen level will further develop in the future." Mr. Nishio, then mayor of Tottori City responded "We would like to visit Germany and learn directly from the leading country of environmental policies. Also, it is our wish to support exchange activities in such fields as economy, culture and education", thus confirming each other's enthusiasm for future exchanges.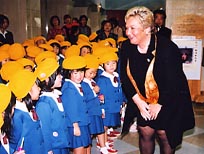 The delegation visited the "Sister City Corner" on the first floor of the City Office to attend the unveiling ceremony of the newly established Hanau booth. After that, they visited the Tottori World Toy Museum "Warabekan" to attend the opening ceremony of a commemorative panel exhibition. In the afternoon, they inspected the city's soccer stadium "Tottori Bird Stadium", attended economic and cultural exchange parties and engaged into a lively exchange of ideas.
On the last day (21st), the delegation visited the Tottori University of Environmental Studies and its calm, new campus. They completed the three day visit to Tottori with a tree planting ceremony at the Koyama Pond Park in commemoration of the sister city agreement.
Tottori City and Hanau have so far conducted various exchange activities at both administrative and private levels, and the mutual ties are expected to strengthen and develop even further with the conclusion of the official sister city agreement.

Profile of Hanau
Hanau is a commercial and industrial city with a history dating back over 850 years. It is located about 20km east of Frankfurt and has a population of 91,000. It is famous for being the birthplace of the brothers Jacob and Wilhelm Grimm, the world known compilers of fairy tales. Hanau is also the starting point of the German Fairy Tale Road to Bremen, which attracts many tourists from Germany and other countries.
History of Hanau
| | |
| --- | --- |
| 1303 | Hanau is given city rights by Albrecht I. |
| 1537 | Cornerstone of the Altstadt (Old Town) Townhall is laid (now the German Goldsmith House) |
| 1597 | Neustadt (New Town) is established after Dutch and Walloon religious refugees settle in the city |
| 1701 | Cornerstone of Philippsruhe Castle is laid |
| 1772 | Construction of the spa resort in Wilhelmsbad starts |
| 1785 | Jacob Grimm is born |
| 1786 | Wilhelm Grimm is born |
| 1813 | Battle of Hanau (Napoleon vs. Wrede) |
| 1834 | Merger of the old and new town |
| 1895 | Composer Paul Hindemith is born |
| 1945 | Most parts of the city are destroyed by Allied air-raids but are restored afterwards |
| 1974 | Hanau expands due to the city merger policies of Hesse state |
Culture
Hanau's many historical buildings are well preserved and have been turned into museums, libraries or theaters. Many cultural events are held there throughout the year such as the Fairy Tale Festival, one of the most popular summer attractions in the region.
The Neustadt City Hall, which is one of the oldest in Germany, is located at the city's central market square, facing the Brothers Grimm Monument.
Among others, Hanau offers a scenic boat cruising course and excellent sports facilities where people can enjoy a variety of club and leisure activities.
Industry
Hanau has a long tradition of jewelry production, gold-and silversmiths and a prosperous textile and tobacco trade. In 1661 Germany's first Faience (paintings on white porcelain) manufactory was built here. This heritage contributed greatly to Hanau becoming a center of new industries in the fields of chemistry, machinery, electricity and pneumatic tyre production in the 21th century.
Sightseeing spots
Brothers Grimm Monument
Philippsruhe Castle
Wilhelmsbad Park
Hessen Doll Museum
German Goldsmith House
Children's Toys and International Exchange
The exchange between Tottori City and Hanau began in 1989, when Tottori City organized the Tottori World Toy Festival as part of the celebration of the 100th anniversary of municipality. In 1995, the Tottori World Toy Museum "Warabekan" and the Hessian Doll Museum became sister museums and have been in close contact since. With the conclusion of the sister city agreement on November 20, 2001, the exchange activities have further broadened and intensified, bringing the relationship of the two cities to a new level.
History of exchange activities
1989
Dolls of the Hessian Doll Museum are exhibited at the Tottori World Toy Festival.
The Soroptimist Clubs International of Tottori and Hanau become sister clubs.
1995
Tottori World Toy Museum "Warabekan" is founded and concludes a sister museum agreement with the Hessian Doll Museum.
1996
The Tottori City mayor visits Hanau City as part of a study tour on how to increase attractiveness of towns
1997
The Komadorikai, a Japanese paper doll making group from Tottori, displays their works at a Japanese Paper Doll Exhibition held at the Hessian Doll Museum.
1998
Ms. Rosemann, the former curator of the Hessian Doll Museum, gives a special lecture at the "Warabekan".
A group of 11 students from the Hanau citizen's university visit Tottori City and have homestays.
1999
A delegation headed by the Hanau mayor Ms. Haertel visits Tottori City to attend the 110th anniversary celebrations of the establishment of Tottori City Municipality.
Also, a delegation headed by the mayor of Tottori City visits Hanau and exchange a joint declaration for concluding a sister city agreement.
2001
A delegation headed by Ms. Haertel from Hanau visits Tottori City and signs the sister city agreement.
Amazing similarities!
Although the two cities have different historical and cultural backgrounds, they have a lot in common.
Prefectural capital · District center

· Tottori City/Prefectural capital (Population: 200,000)
· Hanau City/Principal city of the Main-Kinzig District (Population: 91,000)

Recovery from disasters

· Tottori City/Recovery from a large earth quake (1943) and a large fire (1952)
· Hanau City/Recovery from the air-raids in World WarⅡ(1945)

Castle towns

· Tottori City/ Tottori Castle (built in1545)
· Hanau City/Philippsruhe Castle (built in 1701)

Fairy tales

· Tottori City/Inaba no Shiro Usagi (the white rabbit of Inaba), Koyama Choja (Baron of Koyama) and more.
· Hanau City/The birthplace of the Brothers Grimm, the famous compilers of folk and fairy tales.
(Little Red Riding Hood, Hänsel and Gretel, Cinderella etc.)

Birthplace of famous composers

· Tottori City/Teiichi Okano, one of the most famous composers of Japanese children's songs
· Hanau City/Paul Hindemith, a well-known German composer
Exchanges in the future
It is Tottori's wish to further expand the sister city exchange with Hanau by strengthening the exchange at the citizen's level. To this end, Tottori considers it necessary to further develop exchange in the following fields.

Cultural exchange based on what the two cities have in common
Exchange focusing on environmentally friendly city planning
Economic exchange between enterprises of the two cities
Introduction to the Hessen Doll Museum
The Hessen Doll Museum is located in Hanau, a town about 20km east of Frankfurt from where it can be reached within 20min. by car. The museum is the sister museum of the Tottori World Toy Museum "Warabekan".
Hanau has a population of 91,000 and is the starting point of the German Fairy Tale Road. This historic town is internationally known as the birthplace of the Brothers Grimm, who collected and published fairy tales. The Hessen Doll Museum was established in 1983 and exhibits about 2,000 dolls collected by the museum's founder Ms. Gertrud Rosemann.
Current Exchange Activities
| | |
| --- | --- |
| 1995 | Tottori World Toy Museum "Warabekan" and Hessen Doll Museum become sister museums (July 7) |
| 1996 | 8 young people from Tottori City visit Hanau and the Hessen Doll Museum on a youth exchange program (also in 1998 and 2000 on the same program) |
| 1997 | The Komadorikai, a Japanese paper doll making group from Tottori, displays their works at a Japanese Paper Doll Exhibition held at the Hessen Doll Museum. |
| 1998 | Commemorating the 3rd anniversary of the sister museum exchange a photo-exhibition is held and then deputy curator Ms. Rosemann is invited to give a guest lecture at the Warabekan. |
| 1999 | A special exhibition "Toys and Folkways of Tottori" is held at the Hessen Doll Museum |
| 2000 | Commemorating the 5th anniversary of sister museums exchange, the former curator Ms. Rosemann visits Warabekan to give a guest lecture and a special exhibition is held. |
| 2001 | A delegation from Hanau City visits Warabekan and an exhibition commemorating the sister city agreement is held. |
► Friendship Cities
Relationship with Tottori City
The relationship between Tottori City and Taicang City originates from the friendship exchange between the old Aoya Town (which was later incorporated into Tottori City) and Taicang City. The exchange started in 1991, when a delegation from Aoya visited Jiangsu, the neighboring province of Taicang City (then Taicang Prefecture). Since then, the relationship has progressed and in November, 1999, the two municipalities signed a friendship city agreement
Although the friendship city agreement has expired due to Aoya Town having merged with Tottori City, various kinds of exchange activities continue including mutual visits by government delegates and youth group delegations, the reception of high school students for symposiums and also inviting exchange groups to the Aoya Yokoso Festival.
Profile of Taicang City
► Location
Taicang City is located in the Yangtze River Delta region bordering on the Yangtze. to the northeast and to Shanghai City to the southeast. It is 50km away from Shanghai's city center, which can be reached in about 1 hour by car.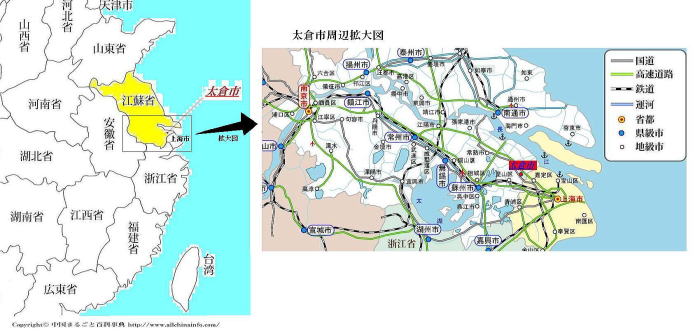 ► Climate
The climate is mild with 4 distinctive seasons. It rains a lot throughout the year with an annual precipitation of 1,120mm. The annual average temperature is 17.6℃.
► Area · Population
Area:823km²

Population:671,100 (registered population:466,300)
► Transportation
Airport:
1 hour by car to Shanghai Hongqiao International Airport, 90 minutes by car to Shanghai Pudong International Airport


Highways:
Coastal Expressway (north-south route), Sukuntai Expressway (east-west route)


Waterways:

highly developed river transportation mainly on the Yangtze River
Taicang Port (designated first class port since Sept. 2003) operates 24-hours, handles approx. 40 million tons of cargo each year and is equipped with berths for ships of up to 50.000 tons
Sightseeing spots
Jingcang Lake



| | | |
| --- | --- | --- |
| Jingcang Lake is an ecological park with a water surface area of 667km2. The park is divided into 6 major sections including a water ecosystem zone, a wetland playground and a sports zone. | | |

Nanyang Plaza



| | | |
| --- | --- | --- |
| Nanyang Plaza is Taicang's first fashion and shopping complex with restaurants, entertainment and tourist services. | | |

Zheng He Park

The 122 ha large park commemorating the famous Chinese mariner and explorer Zhen He was opened in July 11, 2008 and is Taicang's only theme park. It is a riverside park with many activity opportunities and contains, among others, the Zhen He Memorial Hall, a replica of Zhen He's ship and artificial mountains.
Local specialties
Wheat straw pictures、Mahogany sculptures、Horsehair crabs、Rousong (dried pork floss)
Relationship with Tottori City
In Engebei ("Onkakubai" in Japanese) near the fringes of the Kubuqi Desert in the territory of Ordos City there stands a bronze statue of an old Japanese man. Wearing a hat and holding a shovel in his hands, he gazes into the far distance. His name is Seiei Toyama, an honorary citizen of Tottori City. As a professor at Tottori University he worked on agricultural development projects in desert areas. He continued to be actively engaged even after his retirement and started an afforestation project in the Kubuqi Desert despite his age at then 85.
His efforts have been highly appreciated in China and inspired the two cities of Ordos and Tottori to mutually engage in a wide range of exchange activities, beginning with cooperation to counter global environmental problems, efforts to attract tourists and to develop and expand markets for local specialties.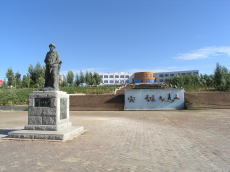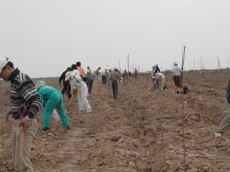 Profile of Ordos City
► Location
Ordos City is located in the southwestern part of the Inner Mongolia Autonomous Region, China, within the "Great Bend" of the Yellow River. This region also encompasses the Ordos Plateau and the 20,000km² large Kubuqi Desert. Ordos City, with the Dongsheng District at its center is a city of rapid growth and development.

► Climate
Ordos exhibits a typical temperate continental climate with relatively little precipitation (170 to 350mm). Most of the rain falls between July and September. The average temperature shows great variations throughout the year with -10℃ in January and 25℃ in July.
► Area and Population
Area :87,428km²
Population:1.548 million
► Transportation
Airport:
Dongsheng Airport ⇔ Shanghai Hongqiao Airport
                      1 flight / day (flight time: 3.5 hours)
           &nbsp ⇔ Beijing Capital International Airport
                      2 flights / day (flight time: 1.5 hours)
           &nbsp ⇔ Beijing Nanyuan Airport
                      1 flight / day (flight time: 1 hour)


Expressway:
Beijing – Ordos: approx. 6 - 8 hours by long-distance bus
Huhot &nbsp– Ordos: approx. 3.5 hours by long-distance bus
Baotou – Ordos: approx. 1.5 hours by long-distance bus
Rongwu Expressway (Rongcheng, Shandong ⇔ Wuhai, Inner Mongolia) within the Ordos boundaries


Railway:
Beijing Railway Station – Dongsheng Railway Station  1 train / two days (approx. 15 hours)
Baotou Railway Station – Dongsheng Railway Station  1 train / day (approx. 2.5 hours)
Huhot Station – Dongsheng Railway Station         1 train / day (approx. 4 - 5 hours)
Sightseeing Spots
The Mausoleum of Genghis Khan

| | | |
| --- | --- | --- |
| The famous Mausoleum of Genghis Khan is about 70km south of Dongsheng, the central district of Ordos City, and is said to be the burial place of Genghis Khan. Covering an area of over 50,000m2 this important national cultural asset is a major tourist attraction. | | |

Xiang Sha Wan Singing Sands

| | | |
| --- | --- | --- |
| The Xiang Sha Wan Resonant Sand Gorge is situated 50km north of Dongsheng, Ordos' central district and stretches over an area of 16,000 km2. Sliding down the dunes creates sounds resembling a flying airplane. Similar to Tottori City, there are also sand sculpture exhibitions. | | |
Local Specialties
Kashmir sweaters (the famous "Ordos" brand), Beef dried in the shade, Processed milk food, Chinese apples